Date & Time of the event(s)
Description and practical details
Indian Institute of Information Technology Nagpur (India) is organising an International event in honour of Maryam Mirzakhani (May 12, 1977 – July 14, 2017), the first woman to win the Fields Medal for her outstanding contributions to "the dynamics and geometry of Riemann surfaces and their moduli spaces". It will be an online event.
Program Details:
30th May, 2023 | 10:00 am – 12:00 pm (Indian Standard Time)
** "Intersection Bodies of Polytopes" by Dr. Isabelle Shankar, Portland State University, United States. 
** "Glimpses of Maryam Mirzakhani's life & work and some applications of mathematics" by Prof. Geetha Venkatraman, Dr. B. R. Ambedkar University Delhi, India.   
Interested people kindly register on https://forms.gle/MkDUJ82UBj44EXxW6 
(The joining link for the WebEx session will be mailed to all the participants before the event)
(E-certificates will be provided to all participants)
For any further queries, please contact the organizer Dr. Charu Goel (Assistant Professor, IIIT Nagpur) at  charugoel@iiitn.ac.in
Event visual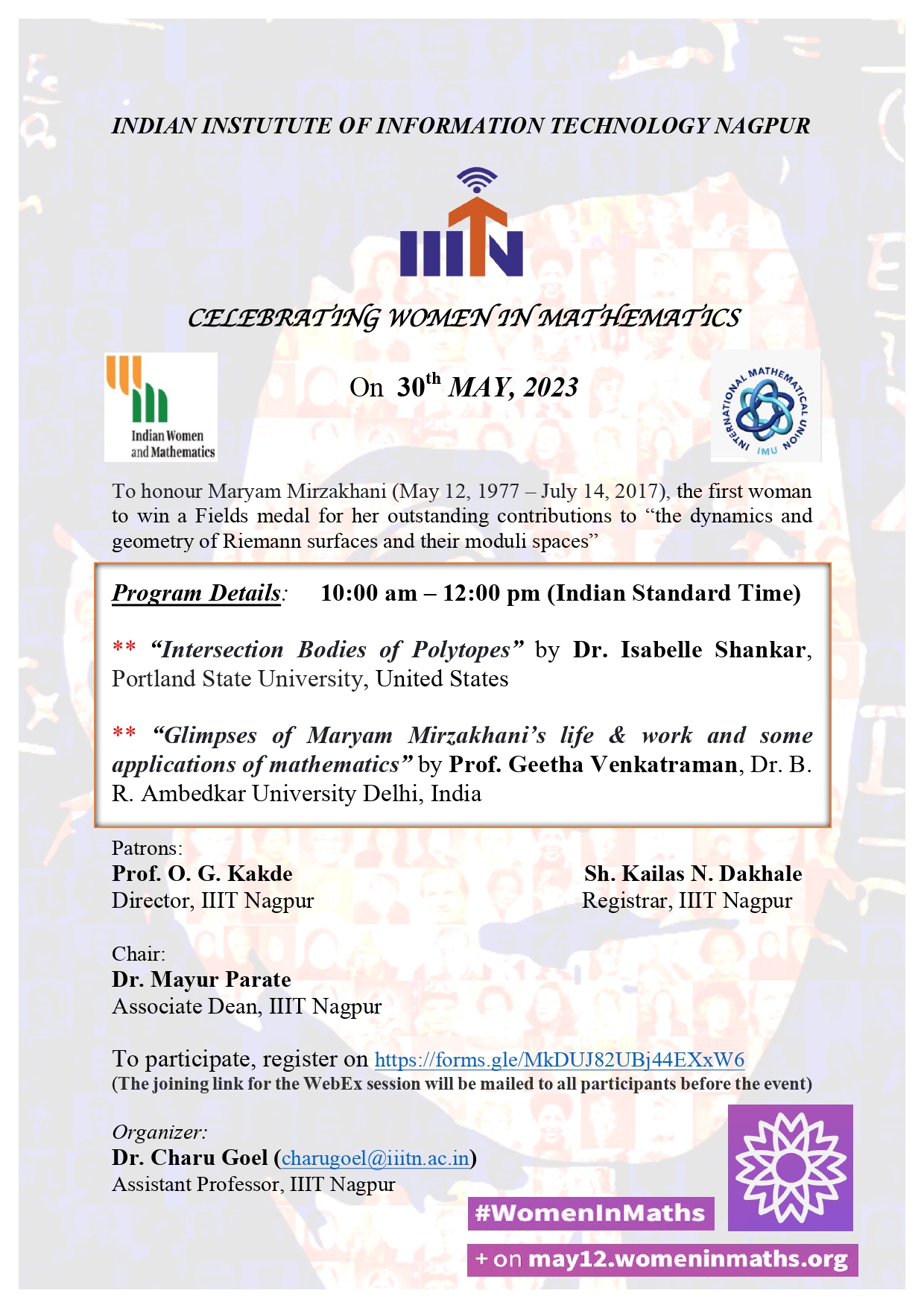 Address
Survey No. 140,141/1 behind Br. Sheshrao Wankhade Shetkari Sahkari Soot Girni, Village - Waranga,
PO - Bori (Butibori) Tahsil- Nagpur (Rural) District
Nagpur 441108
Maharashtra
India
Name of the Organisation
Indian Institute of Imformation Technology Nagpur, India