Date & Time of the event(s)
Description and practical details
As part of the International Women in Mathematics Day celebrations, the Australian Research Council Centre of Excellence for Mathematical and Statistical Frontiers (ACEMS) is proud to present mathematician, musician and author Dr Eugenia Cheng.
Dr Cheng has been featured in the New York Times, presented TED Talks, written several books, and even appeared on "The Late Show with Steven Colbert". Her most recent book, X + Y, a Mathematician's Manifesto for Rethinking Gender, tackles the issue of gender inequality and argues that her mathematical specialty, category theory, reveals why.
In this free virtual public lecture, Dr Cheng will show how we can use abstract mathematical thinking to work towards a more inclusive society in this politically divisive era.
Event visual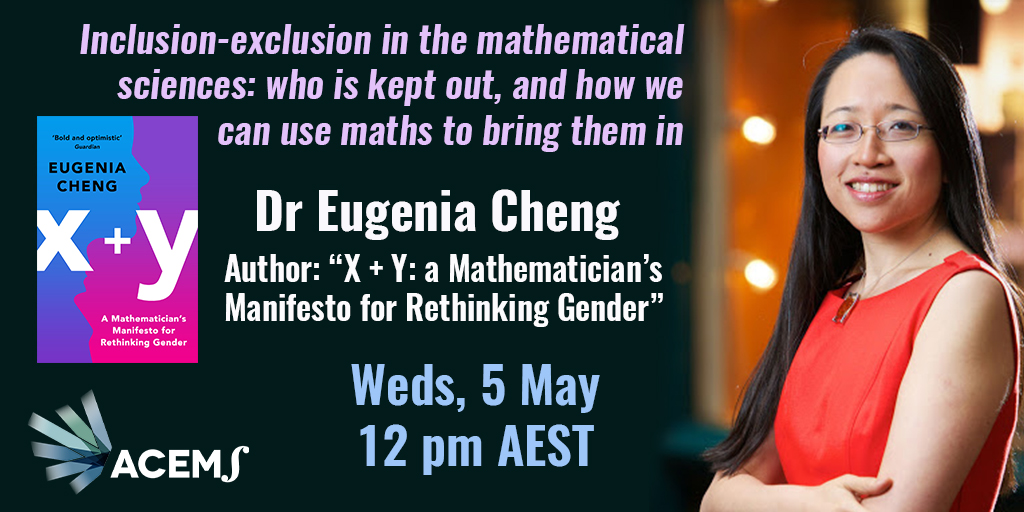 Address
Queensland University of Technology
Brisbane QLD 4001
Australia
Name of the Organisation
ACEMS